Statement of Qualifications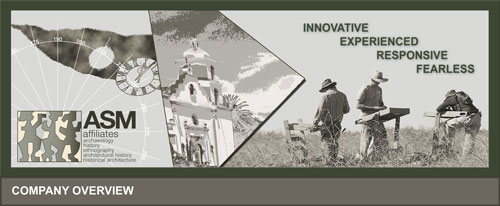 Corporate Qualifications
ASM Affiliates, Inc. (ASM) is a certified Small Business Enterprise specializing in archaeological and historical studies for compliance with local, state, and federal environmental requirements. Since incorporation in 1977, the firm has successfully completed more than 4,500 cultural resource investigations for both private sector and public agency projects throughout California, Nevada, Arizona, New Mexico, Utah, Wyoming, Idaho, Oregon, and Washington. ASM has conducted all sizes and scopes of cultural resource studies and has treated the full spectrum of cultural resources, from historic buildings and structures, to archaeological sites and Traditional Cultural Properties. We are recognized as a leader in the field of cultural resource management for the quality of our compliance-oriented research and for our innovative solutions to complex environmental resource issues. ASM has been awarded numerous multi-year, as-needed contracts with the Naval Facilities Engineering Command, U.S. Army Corps of Engineers, Bureau of Land Management, Bureau of Reclamation, California Department of Transportation, Army Environmental Center, Metropolitan Water District, and other federal, state, and local agencies.
Staff Qualifications
J.R. Cook, the company's founder and Principal, has 35 years of management experience, and all senior staff members are fully knowledgeable of NHPA and CEQA compliance procedures. ASM has assembled a team of archaeologists, historians, architectural historians, historical architects, ethnographers, GIS and other technical specialists, and support staff with unequalled expertise in all aspects of cultural resource management. All of ASM's professional staff members are qualified for their respective project assignments under the Secretary of the Interior's qualifications standards. The majority of our archaeological personnel are listed on the Register of Professional Archaeologists and ASM's History Division staff includes Registered Professional Historians. Importantly, staff experience averages 20 years, meaning that ASM professionals can provide a level of expertise unmatched by our competitors.
Technical Resources
ASM has at its disposal all of the facilities, equipment, and technical expertise necessary to conduct any type of cultural resource management study requested. The company owns professional office space in all of the regions we serve, containing individual staff offices, laboratory, conference room, library, production room, and administrative offices. ASM's business inventory includes state-of-the-art GPS equipment and GIS work-stations that complement our graphics and mapping capabilities. ASM has also innovated the use of Ground-Penetrating Radar and XRF technologies as they apply to cultural resources management.
Selected Projects
NAVFAC Southwest Cultural Resources Services IDIQ Contract

U.S. Army Corps of Engineers Cultural Resources IDIQ Contract

Caltrans District 07 TEA Rural Roads Inventory

Bureau of Reclamation On-Call Cultural Resource Contract

Evaluation of Three Archaeological Sites for the Intermountain Water Project

Coso Rock Art District National Historic Landmark Management Plan

On-Call Archaeological Services for San Diego Gas & Electric Company

Historic Building Maintenance Plan, Herrmann Hall (Historic Hotel Del Monte)

Imperial Irrigation District As-Needed Archaeology Contract

Yuma Pivot Point, Southern Pacific Railroad Bridge Across the Colorado River

Parowan Gap Ethnographic Assessment

Clark, Lincoln and White Pine Counties Groundwat er Development Project Archaeological Services

Charbonneau and Fishhook Parks Archaeological Monitoring

On-Call Archaeology for the El Dorado Irrigation District

Various Cultural Resources Studies at Edwards Air Force Base

Centre City Development Corporation As-Needed Contract

On-Call Environmental Studies for the Metropolitan Water District of Southern California

Devers Palo Verde 2 Transmission Project (DVP2)
COMPLIANCE SERVICES
Section 106 and 110 Compliance
NAGPRA Compliance
CEQA and NEPA
ARPA
AIRFA
SB 18
SPECIALIZED SERVICES
Archaeological Overviews
Constraints-Feasibility Analyses
Predictive Modeling
Archival Studies
Field Surveys
Construction Monitoring
Data Recovery
GIS/GPS
Sampling and Testing
Architectural History
Eligibility Evaluations/Nominations
HABS/HAER/HALS Documentation
Citywide Surveys
Historic Preservation Plans
Native American Consultation
Ethnography